In the United States itself almost 126% of VPN usage was increased only in March 2020. This clearly states that there will be a huge growth in VPN usage in coming years
To satisfy the users there are many VPN service provides all over world but almost 70% of them are not safe
One thing that almost every VPN lags is trust, but finally, Mozilla (the company behind Firefox) had launched there own VPN app and announces that it is the most secure, private and fastest VPN app
As per now Mozilla VPN was only available in 6 countries (United States, Canada, Singapore, Malaysia, United Kingdom and New Zealand) with 280 servers in almost 30+ different countries
Mozilla VPN was available for Android, IOS (beta) and Windows devices, for Mac and Linux devices will be rolled out soon
The price of Mozilla VPN was $4.99 per month which was pretty decent, considering the features it provides
Features of Mozilla VPN app
Device-level encryption
280+ servers in 30+ countries
No bandwidth restrictions
No logging of your network activity
Connect up to 5 devices at a time
Pro's
They don't store any online activity logs
They use WireGuard protocol for best privacy and fast network speed
Can connect up to 5 devices simultaneously
Company that we can trust
Money-back up to 30 days
No bandwidth restrictions
Con's
Only available in 6 countries
Not available for Mac and Linux users
Also Read: 13 EASY ways to Fix Android Wi-Fi Keeps Dis­con­nect­ing issue
How to set up Mozilla VPN in Windows
Once you're done with the payment then you will redirected to download page where you need to select your type of device (Windows in my case)
After downloading, login using Firefox account and the interface looks like this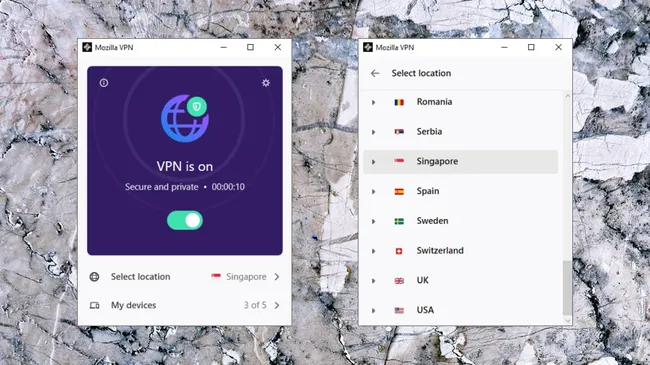 It has a very simple and easy to use interface with a big VPN toggle button to turn ON/OFF and a default location section where you can select required location
What I observed from Mozilla VPN
Connects within only 1-2 seconds
Automatically connect to fastest server option was not available
It shows an alert whenever you connect to an unsecured WiFi network
Limited options in Settings
UI/UX were very minimal and super easy to understand
How to turn ON the Mozilla VPN
1.Open Mozilla VPN app
2. Turn ON the toggle and turns to green when VPN connected
Are there limits to Mozilla VPN connection?
With the paid subscription of $4.99 per month it provides unlimited connections for maximum of 5 devices when you connect to the Internet from any app 
Is Mozilla's VPN safe for us to use?
As per Mozilla's privacy policies they don't collect logs and uses WireGuard protocol for best privacy.
Adding to that we all know Firefox was one of the best secure browser out there and hope the VPN from same company will be probably safe to use
What are the plans available with Mozilla VPN
Mozilla VPN has only one plan which costs $4.99/month
Is Mozilla VPN available in my country?
Mozilla VPN was only available in United States, Canada, Singapore, Malaysia, United Kingdom and New Zealand (as per July 2020)
How to download Mozilla VPN in India
Officially Mozilla VPN was not available for India, but you can join the wait list.
So, this is our short review on Mozilla VPN, whenever it launched in all countries and for all devices we write a detailed review on it